So in this edition of entertainment I will be talking about the female roles within Western movies. I was shocked to see that there are few movies that had such strong women that made me wish I was apart of the movie or that era just for a split second. So have a read and enjoy this edition of black Western movies.
The Harder They Fall
First on the list we have "The harder they fall". This movie was recently released on Netflix.
Synopsis: "When an outlaw discovers his enemy is being released from prison, he reunites his gang to seek revenge." Starring the legendary Regina King as Trudy Smith and Rufus Buck's right hand woman, Zazie Beets as Stage coach Mary and Nat love's love interest and finally Danielle Deadwyler as Cathay Williams and Stage coach Mary's Right hand.
Let me tell you my mouth was open catching flies within the first five minutes of watching because right off the bat there was action. Trudy Smith(Regina King) really was one hell of a smooth talking outlaw not only did she make her points when she needed to but she rarely had to get hands dirty which was amazing. Stagecoach Mary (Zazie Beets) was not only an owner of her own bar but she plays huge part within black herstory as part of the underground railroad movement (which was not referenced in the movie but it's on Google.) Stagecoach Mary not only was she the love interest in the movie but she wasn't no damsel she knew how to defend herself here and there and I love to see it.
Finally let's talk about Cathay Williams (Danielle Deadwyler), not only was she one of the best female security for stagecoach Mary's bar but she held her own against anyone and everyone with minimum damage and that to me was definitely a show of strength and power. This movie was based on real people and this is something you don't read/see everyday about the cowboy era so it was great to know that this was based on real people. The sound track was a fusion of both hip hop and Reggae and I was here for it, singing along and everything.
I highly recommend this movie but also recommend that kids should not see this. I hope you enjoy this movie as much as I did.
---
Gang of roses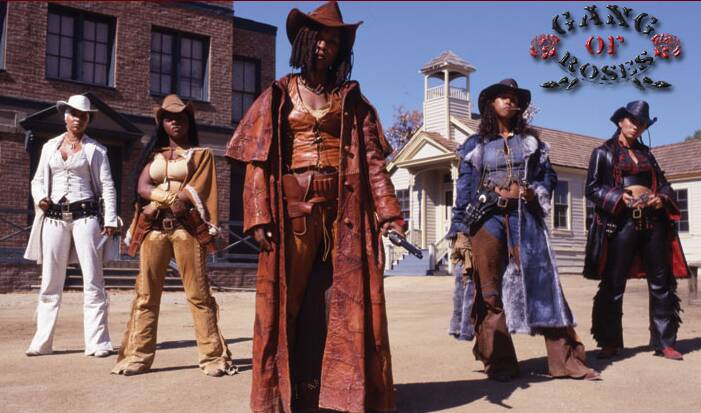 Second on my list we have "Gang of roses". This movie was released in 2003.
Synopsis: "A gang of gold-hunting outlaws, headed by the ruthless Left Eye Watkins (Bobby Brown), takes over the peaceful town of Flatridge, tearing the sleepy outpost to shreds as they search for riches. They murder a can-can girl, who is the sister of Rachel (Monica Calhoun), the onetime leader of a notorious all-girl gang. Rachel then rounds up her four old associates, and they seek revenge for her sister. Using teamwork and a sassy attitude, Rachel's gang goes up against Watkins' tough crew."
This movie was predominantly female led and each character played their part well. Maria (Lisa Raye McCoy) was the fastest knife thrower in this movie. I absolutely love Lisa Raye Mcoy in general so to know that she did a western movie definitely peaked my interest. Her character definitely had a one track mind but she was calculated and smart about her movements. Chastity (Lil Kim) is the very definition of sweet but deadly. Lot of the time Chastity was the voice of reason through out the movie but she was good with a gun. Kim(Stacey Dash) was the hothead in the group and definitely fearless. Rachel (Monica Calhoun) was the preacher of the group. Rachel always tried to get the ladies to change their outlaw ways but never really worked but loved them all the same.
Finally Zang li (Marie Matiko) is the silent but deadly. She was not only out to collect her bounty but she was great at protecting her outlaw sisters and I love to see it, the sisterhood and the bonding. Not only are there few black western movies but even fewer are predominantly black female led that's not the 'damsel in distress' or 'a lady of the night'. I do recommend this movie as it is filled with action and strong women. This movie can be found on YouTube. Happy watching.
---
Posse
Finally on my list we "Posse".
Synopsis: "In Cuba, a band of Buffalo Soldiers, led by the intrepid Jesse Lee (Mario Van Peebles) and joined by a gambling white soldier (Stephen Baldwin), is sent on a suicide mission to intercept a shipment of gold from enemy troops during the Spanish-American War. When they discover that the racist white officer who sent them, Col. Graham (Billy Zane), meant to betray them, they are forced to shoot their way to freedom. Upon escaping, they embark on a dangerous quest across the American frontier".
Although all the men in this film did their thing and was the reason for why I got into western movies, let's talk about the beautiful love interest Lana(Salli Richardson) not only does she exude grace and femininity but she was definitely good at being a fighter and a damsel in distress. I loved her character because she was a beautiful native woman trying to help her man and her people, which is the very definition of a queen in my book. I definitely recommend to watch this movie which you can find on YouTube.
---
Bonus black western movies to watch, Django unchained, Gang of roses 2 and Black tigress/Lola Colt.
So overall their are a few black western movies with amazing female leads that are not as talked about so I am so glad to shine a light on these movies And I do hope you watch them and enjoy them as much as I did. Thank you for reading and happy watching.
---